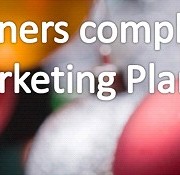 Newsflash – Christmas is the most important trading period for a retail business like yours! Last week I spoke to a Salon Owner who told me that she had a very slow 2011. If you have any business smarts, you will know that Christmas is your opportunity to catch up. In a recent post entitled, "Blink and you will miss this marketing opportunity" I said that Salon Owners who have a plan and who take massive marketing action starting now will do well this holiday season. Those who don't take action now will suffer a slow Christmas and an even slower January!
So my message to you is simple – TAKE MASSIVE ACTION AND MARKET LIKE A MAD THIS CHRISTMAS. You may hate the idea of being part of the Christmas Marketing Machine, but regardless of how you feel about Christmas turning into an already over-commercialised holiday, the simple truth is that we live in a consumer orientated society and if the customer doesn't buy you don't eat. It is time for you to get comfortable with the fact that Marketing is most important activity you can focus on this season.
Sales opportunities are coming your way so I recommend that your Christmas Marketing Plan must include the following 14 elements;
1. Identification of services and retail products that you and your staff will focus on selling. You need to do this so that you can quickly and easily add these retail items and services into ready-made email templates and gift vouchers that are available for Salon Management Studio customers.
2. Plan to run Hot spot promotions. These are "crazy Christmas offers that are only available for a limited time. In the post entitled "Christmas Marketing Strategy # 4" I am going to give you a complete plan of action to run a successful "Hot Spot" promotions" on the 16th of December.
3. You will experience an increase in walk in traffic. Make 100% sure that you have a plan of action and a system to collect customer information especially when the Salon is busy. Both you and your staff have to be committed to building your database during this busy period because you will need to contact these customers and prospects in January when things slow down again.
4. Decorate your Salon Window. Get people talking about your Holiday Spirit.
5. Create Christmas Spirit inside of the Salon. The look and feel of your store is part of your marketing campaign! (Just don't drive customers crazy with irritating Christmas Carols)
6. Place all Christmas promotions (both retail & professional) on a Salon A-Frame chalk board outside the Salon.
7. Place your Christmas Specials and operating hours on your Salon answering machine and personal voicemail.
8. All Christmas promotions and special offers must be highly visible inside the Salon. Put them up in a Perspex A4 display board at the pay counter, in every treatment room, in the reception area, on every Nail Desk. You can get these Perspex holders from Makro for next nothing and they come in different sizes. Don't forget to place all your specials in a "snap it" poster frame behind the toilet door where you always have a captive audience!
9. Place your Christmas Specials online on the front page of your website.
10. Place your Christmas Specials on your Facebook page.
11. Create Flyers that will be handed to each and every client as they leave reception.
12. Talk about your Christmas offers in your Salon Newsletter/ Email Newsletter.
13. Send an SMS to every client about your promotion.
14. Get your staff trained – all of the above is useless if your staff can't sell.
I hope that these ideas get you excited about the business possibilities that are waiting for business minded Salon Owners who take action. But there's more. The team at Salon Management Studio wants to do everything possible to help you have a massively successful Christmas. So, on top of our awesome Salon CRM & Marketing Software, over the next week we will post 3 more articles that form part of a complete Christmas Marketing Plan of action. These posts will include;
Step by step guides,
Ready-made customizable promotions,
direct response bulk email templates,
SMS templates,
Christmas Cards,
Facebook Ad's
and gift vouchers
Let us know what you think of this post. We would love to hear from you so please share your thoughts, ideas and comments in the box below