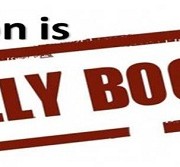 The purpose of marketing is profit. Marketing must put more money in the bank. If profit is what you want then your first goal has to be getting your Salon Scheduler full for the holidays. If you get your scheduler full you can…
– Rebook customers for another appointment in January.
– Get a referral and book their friends, family and colleagues for a treatment
– Sell customer retail products for themselves, their husband, wife, kids and relatives. (They are going to buy stocking fillers so they might as well buy from you!)
– Sell clients a gift voucher for their best friend, mom, brother sister etc…
Christmas is full of opportunities to get your Scheduler full, for example…
It is that time of the year when everyone experiences the Christmas rush before the holidays. People want to shop and everyone needs to get things done before they go away. This means that your customers have a limited amount of time to get important things done. On top of this, December is traditionally a busy time for most Spa's and Salons. Your diary gets fuller faster at this time of the year.
You might as well use the December rush and your busy diary to create a sense of urgency among your customers. Don't wait for customers to come to you this Christmas. Be proactive and send every customer an email sales letter that gets them coming to you. I call it a "Book your appointment before it is too late" sales letter.  Here is a formula for the sales letter
a. Take the approach of giving your customers helpful tips and advice. I.e. "Salon ABC would like to help you avoid disappointment this holiday. Because you are a loyal regular client we want to push you to the front of the queue…"
b. Notify customers of your upcoming closing dates and extended holiday operating hours.
c. Use the fear of loss to create a sense of urgency. "Our scheduler for December is already filling up fast. Space for your favourite service is disappearing quickly, so if you don't book your appointment now you will end up looking wrinkled, fat, hairy and ugly on the beach!"
d. Include a crystal clear call to action. Tell customers exactly what to do to quickly and easily book an appointment.
e. Throw in a value added incentive if they respond to the email and book their treatment immediately.
This "Book your appointment before it is too late" letter must be sent to out by Tuesday the 6th of December.  Make sure that you use Salon Studio CRM's customer profiling system to send the email to your best, most loyal and regular clients first. Remember that marketing is the right message to the right person at the right time. For added urgency, immediately after you send the email, send all of your clients a personalized sms saying "Hi (First Name) please check your email for an important Christmas announcement for (Your Salon) V.I.P customers that will save you time and money."
Lastly, back the email up with good old fashioned face to face selling. Every client that comes in to the Salon must be told that the scheduler is filling fast so book now to avoid disappointment.
To save you time, Salon Management Studio customers can go to the Marketing Store inside of Salon Studio and download a ready-made, done for you "Book your appointment before it is too late" email template / sales letter. The template comes with a Christmas theme, step by step instructions, supporting graphics, two strong calls to action an attention grabbing headline and more. Customise the template with your Salon's name, logo, contact details and operating hours. Send it out and watch the appointments come in.